Jubilee and a 101st Birthday!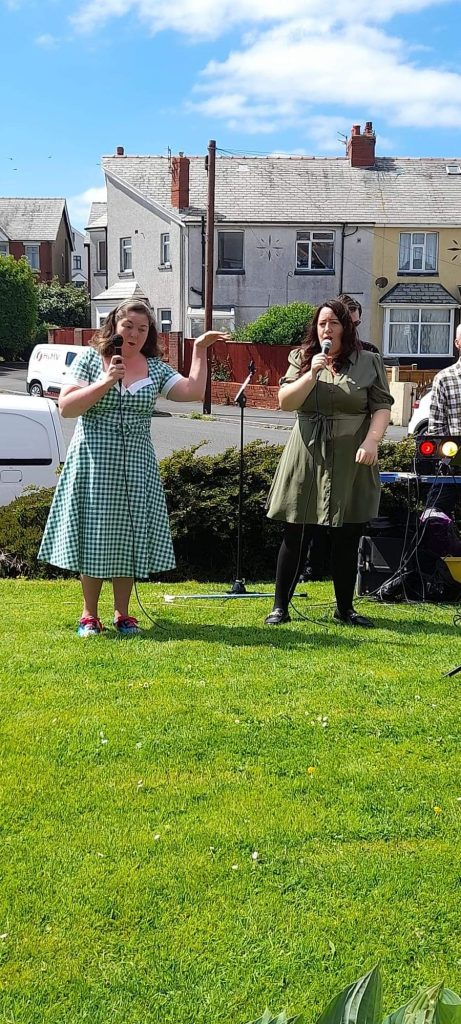 On the Saturday of the Queen's Jubilee weekend, Bispham CastAways, were performing at Glen Tanar care home in Bispham for the residents, staff, friends and family. It was a special occasion for the care home as Maggie, one of the residents, was celebrating her 101st birthday too! The afternoon started with singing by Hayley Price and assisted by Sue Hope, featuring "We'll Meet Again" and "Is This The Way To Amarillo?". After a short break, where guests helped themselves to barbecue and took a lucky dip on the tombola, the CastAways performed their short pantomime, "The Princess and The Mouse" by Belladonna Mysteries. Great Fun was had by all and Bispham CastAways look forward to performing for Glen Tanar again.
Cast (in order of appearance)
Sue Hope – Prince Mickey, turned into the Mouse by the evil Wizard Wazam – Principle Boy
Ian Dodd – Nana Noodle, Mickey's old nanny and friend – The Dame
Suzanne McEachran – Whirly the henchman with constant vertigo – One part of the Comedy Duo
Hayley Price – Windy the henchman with a serious flatulence issue – One part of the Comedy Duo
Helen Findlay – The Evil Wizard Wazam who has stolen the kingdom from Mickey and is taxing the subjects out of home and clothing – The Bad Guy
Miley – Princess Poppy who has been sent out to marry a rich man after being sacked from advertising Perfect Princess Lipstick – Principle Girl
Thanks also to the crew that helped!
Martin Thompson on sound
Harry Chambers and Dave Austin on set
Tracy Johnson as prompt