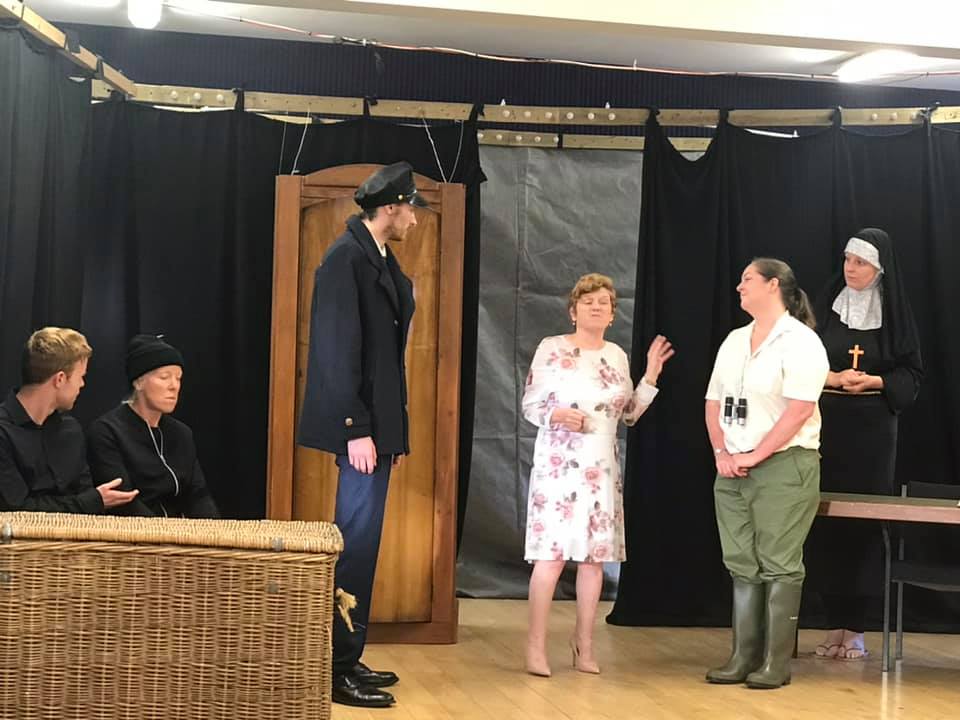 This was our first foray into taking theatre "on the road" into the community as well as our debut at our new theatre home, so this production has a special place in our hearts. After holding outdoor read throughs in Jubilee Gardens at Gynn Square during lockdown, we decided to perform "The Clamourings" as our first outdoor community performance for care homes. We started rehearsals after just coming out of COVID lockdown, requiring lots of extra precautions and necessitated several cast alterations and "doubling/trebling up"! We had lost our old theatre home as it was going up for sale, so we rehearsed in hotels, who kindly gave the space for free, and at 1st Bispham Scout Hut, who made us a great deal for rehearsal time. Our amazing tech guy set out to produce a simple, transportable, outdoor set that we could alter and put up in any garden space… it was amazing and the whole cast and crew took part in putting it up and striking it, practising both on the lawn at the Scout Hut and inside. We viewed two care home outdoor spaces to perform in at the end of August bank holiday; Glen Tanar and Autumn Leaves. Unfortunately, we never got to perform at Autumn Leaves as they had to go into COVID lockdown the morning we were supposed to arrive but we hope to work with them again in the future.
We actually performed three times during this very strange COVID time. The first was at the dress rehearsal on August 22nd 2021 inside 1st Bispham Scout Hut to select family and friends… notable as this was the first time a performer video called his performance in to an iPad as Ian Dodd was in COVID isolation! The second was on the lawn at Glen Tanar care home for residents, staff and some family on August 28th 2021, including bingo at the interval ran by "Hastie Dalrymple", our very own Hayley Price. The final performance was our first at our new theatre home, Holy Family RC Church Hall, on the 18th of September 2021 and we loved seeing an audience back enjoying live theatre at each and every performance!
The play was a comedy by Richard Coleman set in the train station at Giggly Halt in the early 1960s. The misfit set of characters included a pair of bungling thieves, a dodgy owner of a local holiday camp, the local Lady of the manor, a nun and a militant birdwatcher to name but a few. People hid in the wardrobe, the railway inspector gets tied up and put in the basket and the Great Crested Crane that chose to nest in the rafters finally hatched it's eggs! All three audiences had a great time, laughing and guffawing, especially when Hastie turned up in a chicken suit! It was a great play to reintroduce theatre to everyone following COVID and despite cast issues, we had a great time.